Electronic Components Sales Market Analysis and Forecast (March 2023)
2023/05/29
Table Of Contents
Prologue
1 Macroeconomics in March
  1.1 The Global Manufacturing Industry Is Stabilizing and Picking Up, with Increasing Volatility
  1.2 The Electronic Information Manufacturing Industry Declined Significantly and Continued to Decline
  1.3 Semiconductor Sales Fell Sharply, and the Index Pulled Back
2 Chip Delivery Trend in March
  2.1 The Overall Chip Delivery Trend
  2.2 List of Delivery Cycles of Key Chip Suppliers
3 Orders and Inventory in March
4 Semiconductor Supply Chain in March
  4.1 Semiconductor Upstream Manufacturers
(1)Silicon Wafer/Equipment
(2)Fabless/IDM
(3)Foundry
(4)OSAT
  4.2 Distributor
  4.3 System Integration
  4.4 Terminal Application
(1)Consumer Electronics
(2)New Energy Vehicles
(3)Industrial Control
(4)Photovoltaic
(5)Energy Storage
(6)Service Machine
(7)Communication
5 Distribution and Sourcing Opportunities and Risks
  5.1 Opportunities
(1)To a Higher Level, the Scale of Smart Home Devices May Exceed 279 Billion in 2026
(2)Prosperous, Global Shipments of Foldable Mobile Phones May Reach 19 Million Units in 2023
(3)The Future Is Promising, Sic Power Devices Will Exceed 2.2 Billion in 2023
(4)The Market Is Improving, and the Price of Mobile Phone HD Version TDDI Chips Has Risen by 10%
  5.2 Risk
(1)The Market Is Sluggish, and Smartphone Oems Continue to Make Inventory Adjustments in February
(2)Cut The Order and Price, Pay Attention to the New Changes in the Chip Supply Chain of Auto Companies
  5.3 Policy Trends
6 Summarize
Disclaimer
Prologue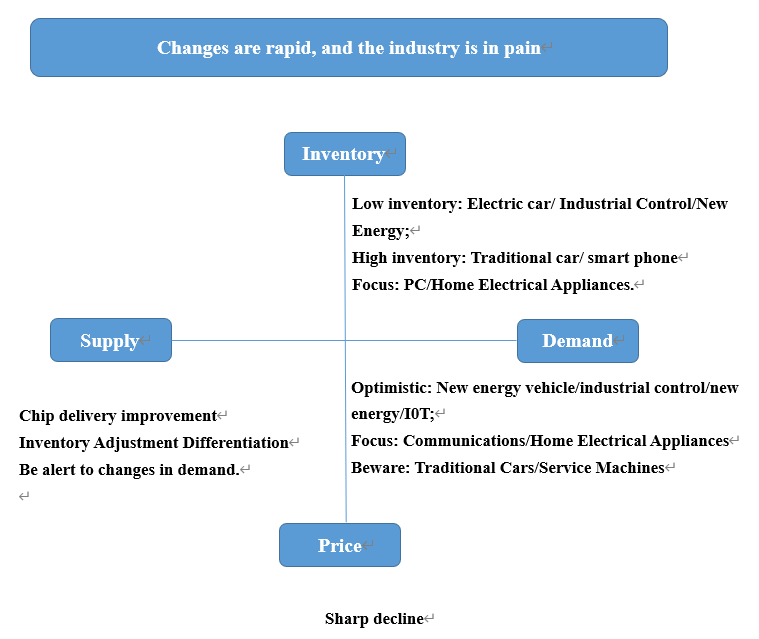 1 Macroeconomics in March
    1.1 The Global Manufacturing Industry Is Stabilizing and Picking Up, with Increasing Volatility
In March, the global economy experienced a correction, but except for China, major economies including the United States, the European Union, and Japan are still at a low level, and the stabilization situation remains to be seen.
Chart 1: Manufacturing PMI of global major economies in March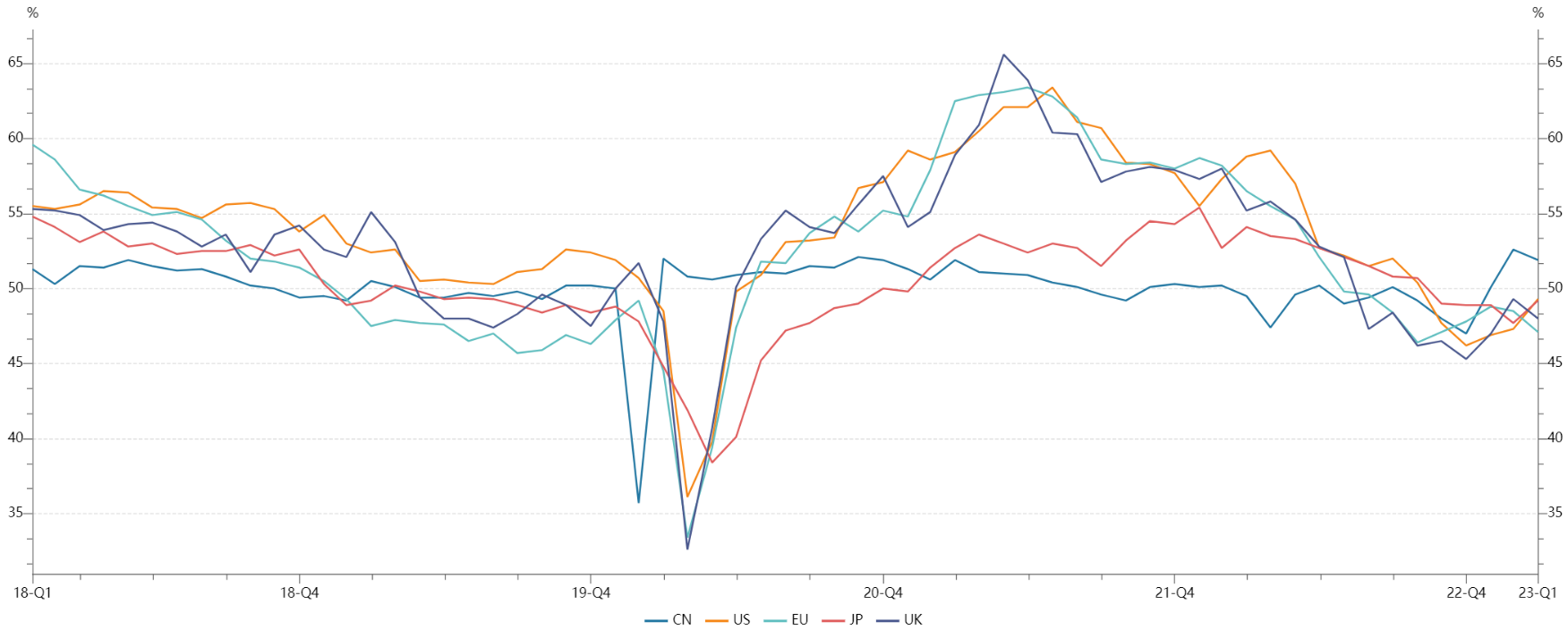 Source: NBSPRC
The epidemic is no longer the main factor affecting the recovery of the world economy. Due to the impact of geopolitical conflicts, the stability of the global industrial chain and supply chain is still unstable, and the impact of general inflation on the economy has intensified.
    1.2 The Electronic Information Manufacturing Industry Declined Significantly and Continued to Decline
From January to February, the production scale of the electronic information manufacturing industry shrank slightly year-on-year, exports showed a downward trend, corporate profits declined significantly, and investment maintained rapid growth.
Chart 2: Operation of electronic information manufacturing industry in February 2022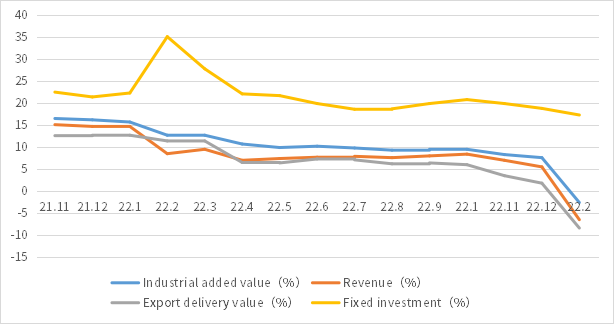 Source: MIIT、Chip Insights
    1.3 Semiconductor Sales Fell Sharply, and the Index Pulled Back
In January 2023, according to the latest adjusted data, the global semiconductor industry sales fell by 18.5% year-on-year, and the Chinese market fell by 31.6% year-on-year. The semiconductor industry has entered a cyclical recession.
Chart 3: Comparison of global and Chinese semiconductor industry sales growth in January 2023

Source: SIA、Chip Insights
From the perspective of the capital market index, the Philadelphia Semiconductor Index (SOX) rose by 9.3% in March, and the China Semiconductor (SW) industry index retreated by 6.04%. Affected by the recovery of the supply chain, market confidence rebounded briefly.
Chart 4: Trends of Philadelphia and SWS Index in March

Source: Wind
For more information, please refer to the attached report.