Electronic Components Sales Market Analysis and Forecast (July 2023)
2023/08/16
Table Of Contents
Prologue
1 Macroeconomics in July
  1.1 The Global Manufacturing Industry's Downward Trend Intensifies
  1.2 The Electronic Information Manufacturing Industry Continues to Decline
  1.3 The Semiconductor Sales Slowly Rebounded
2 Chip Delivery Trend in July
  2.1 The Overall Chip Delivery Trend
  2.2 List of Delivery Cycles of Key Chip Suppliers
3 Orders and Inventory in July
4 Semiconductor Supply Chain in July
  4.1 Semiconductor Upstream Manufacturers
(1)Silicon Wafer/Equipment
(2)Fabless/IDM
(3)Foundry
(4)OSAT
  4.2 Distributor
  4.3 System Integration
  4.4 Terminal Application
(1)Consumer Electronics
(2)New Energy Vehicles
(3)Industrial Control
(4)Photovoltaic
(5)Energy Storage
(6)Service Machine
(7)Communication
5 Distribution and Sourcing Opportunities and Risks
5.1 Opportunities
(1)The Dawn is Emerging, and MLCC is on the Eve of an Upward Turning Point in the Prosperity
(2)The Market Turned Around, and the Downward Trend of Analog IC Prices Slowed Down
5.2 Risk
(1)Less Than Expected, the Progress of MCU Inventory Depletion is Still to be Digested
(2)Sudden Abandonment, Intel Stopped Producing Bitcoin Mining Chips
6 Summarize
Disclaimer
Prologue

1 Macroeconomics in April
    1.1 The Global Manufacturing Industry's Downward Trend Intensifies
In July, T he global economic index has once again hit a new low, with major economies such as China, the United States, the European Union, Japan, and the United Kingdom still under the warning line, with Germany experiencing a particularly severe decline, posing challenges to the global economic recovery.
Chart 1: Manufacturing PMI of the world's major economies in July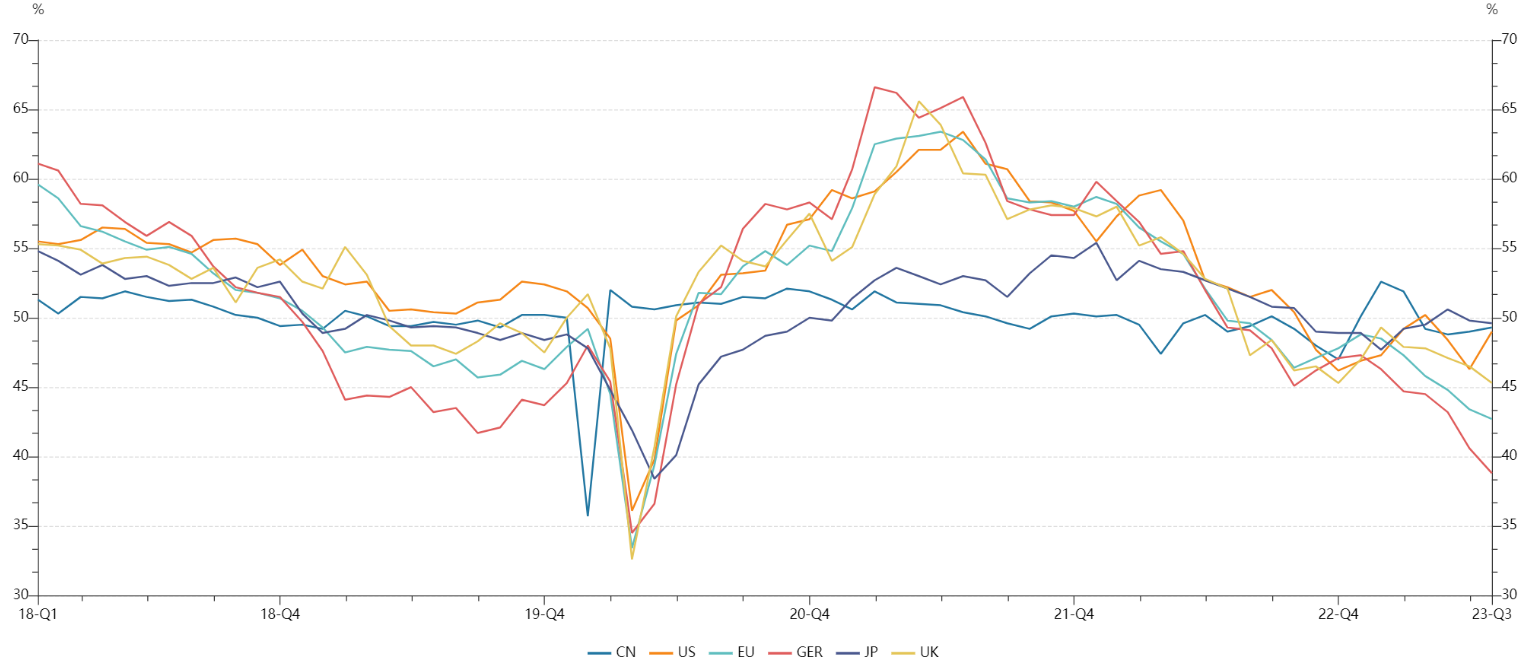 Source: NBSPRC
    1.2 he Electronic Information Manufacturing Industry Continues to Decline
2023H1, The production of China's electronic information manufacturing industry gradually resumed, exports decreased, benefits rebounded significantly, and investment continued to decline.
Chart 2: Operation of electronic information manufacturing industry in June 2023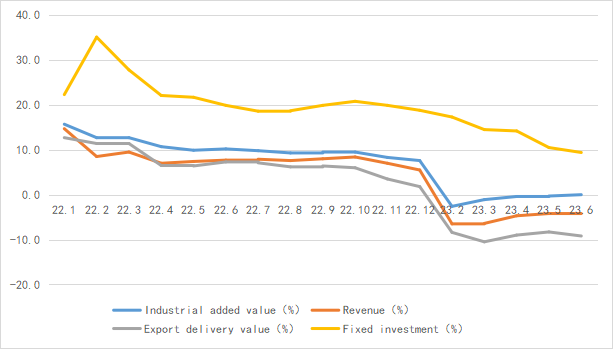 Source: MIIT
    1.3 The Semiconductor Sales Slowly Rebounded
In April 2023, global semiconductor sales reached 39.95 billion US dollars, a month on month increase of 0.3% and a year-on-year decrease of 21.6%. The global semiconductor market is still in a cyclical downturn stage.
Chart 3: Sales and Growth Rate of the Global Semiconductor Industry in May 2023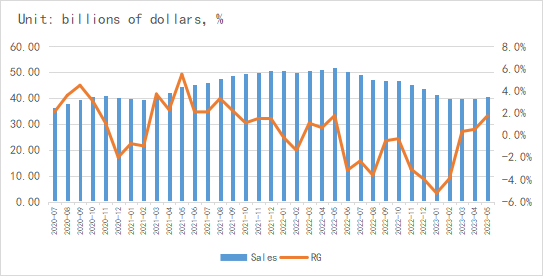 Source: SIA、Chip Insights
From the perspective of the capital market index, the SOX slightly increased by 4.0% in July, while the China SW industry index fell by 0.72%. Display the current wait-and-see trend of domestic and foreign investors towards the market.
Chart 4: Trend of SOX and SW Index in July

Source: Wind
For more information, please refer to the attached report.