Electronic Components Sales Market Analysis and Forecast (Q3 2023)
2023/10/25
Table Of Contents
Prologue
1 Macroeconomics and Semiconductor Trade
  1.1 Macroeconomic Analysis
(1)The Global Manufacturing Industry Bottoms out and Rebounds
(2)The Electronic Information Manufacturing Industry Remains Sluggish
  1.2 Semiconductor Market Analysis
(1)Stable Recovery in Semiconductor Production and Sales
(2)Continuous Improvement in Semiconductor Import and Export
(3)Semiconductor Index Fluctuation Downward
  1.3 Chip Delivery Trend
(1)Chip Delivery Trend
(2)Supplier Delivery Cycle Summary
  1.4 Orders and Inventory Situation
2 Semiconductor Supply Chain
  2.1 Semiconductor Upstream Manufacturers
(1)Silicon Wafer/Equipment
(2)Fabless/IDM
(3)Foundry
(4)OSAT
  2.2 Distributor
  2.3 System Integration
  2.4 Terminal Application
(1)Consumer Electronics
(2)Automobile
(3)Industrial Control
(4)Photovoltaic
(5)Energy Storage
(6)Service Machine
(7)Communications
3 Distribution and procurement opportunities and risks
  3.1 Opportunities
  3.2 Risk
4 Summarize
Disclaimer
Prologue

1 Macroeconomics and Semiconductor Trade
    1.1 Macroeconomic Analysis
        (1)The Global Manufacturing Industry Bottoms out and Rebounds
In Q3 2023, the global economic index hit a new low, but the downward trend has rebounded since August. Except for China, major economies such as the United States, the European Union, Japan, and the United Kingdom continue to operate at low levels, while the global economy maintains a weak recovery trend.
Chart 1: Manufacturing PMIs of Major Global Economies in Q3

Source: NBSPRC
Due to the continuous recovery of the global economy, the OECD has raised its global economic growth forecast for 2023 from the previous 2.7% to 3%.
       (2)The Electronic Information Manufacturing Industry Remains Sluggish
From January to August 2023, the production of China's electronic information manufacturing industry continued to recover, the decline in exports continued to narrow, the recovery of benefits accelerated, and investment stabilized.
Chart 2: Latest Operation of Electronic Information Manufacturing Industry in 2023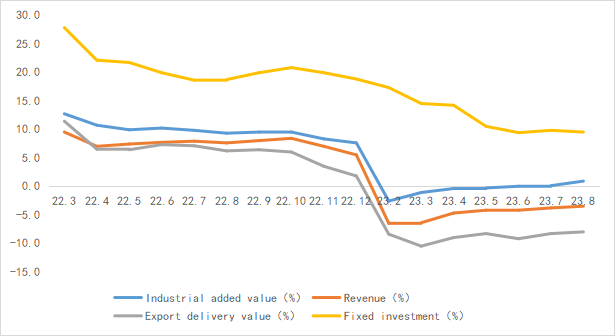 Source: MIIT、Chip Insights
    1.2 Semiconductor Market Analysis
       (1)Stable Recovery in Semiconductor Production and Sales
In August 2023, global semiconductor industry sales reached $44.04 billion, a month on month increase of 1.9%. Global chip sales have risen slightly for six consecutive months, indicating optimistic development prospects in the coming months.
Chart 3: Latest global semiconductor industry sales and growth rate in 2023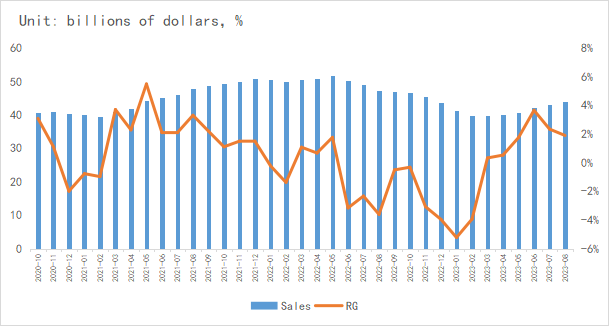 Source: SIA、Chip Insights
From the perspective of integrated circuit production, the global integrated circuit production in August was about 115.9 billion pieces, with a narrowing decline. China's production reached 31.2 billion pieces, a year-on-year increase of 21.1%, reaching a new high in nearly two years.
       (2)Continuous Improvement in Semiconductor Import and Export
In terms of import and export, the import and export amount of integrated circuits in China improved in August, but the growth rate is still at a low level.
For more information, please refer to the attached report.